I thought it was about time there was a 'beginners guide' for MK7 ST ownership.
Please Note: This is a very basic guide, for the full story (particularly the modification side) it is recommended that you become a member, there's a vast amount of knowledge and experience available.
The Basics.
Colour:-
The ST is available from the Factory in 5 colours. Race red is the only non cost option, the rest are optional extras, the most expensive being Molten Orange. In brackets are the abbreviated versions commonly used on the forum.
Race Red.(RR)
http://www.fiestastoc.com/forums/topic/135889-race-red-st-photo-gallery/
Frozen White.(FW)
http://www.fiestastoc.com/forums/topic/118378-the-frozen-white-mk7-photo-gallery/
Spirit Blue. (SB)
http://www.fiestastoc.com/forums/topic/118154-the-spirit-blue-photo-gallery/
Panther Black. (PB)
http://www.fiestastoc.com/forums/topic/59499-black-sts/
nb: At some point in late 2015 early 2016 Ford replaced Panther Black with Shadow Black, I would add a photo, but, well, it's black and even the most keen-eyed amongst you would struggle to spot the difference
Molten Orange. (MO)
http://www.fiestastoc.com/forums/topic/224937-molten-orange-photo-gallery/
Body:-
As of late 2016, for the first time since it's inception Ford made the ST available in both 3 and 5 door guises.
Trim:-
Initially available in two trim specs, ST1 and ST2, but in 2014 Ford introduced the ST3 due to a significant number of people ticking a lot of the boxes on the options list of the ST2.
ST1
The effective base model, with;
Cloth Recaro seats
Quick Clear heated windscreen
Ford branded DAB CD SYNC head unit
Non Projector head lights with tungsten DRL's (up until some point in 2015 when they changed to projector light with LED DRL)
Key start ignition
Manual Air-conditioning
ST2
In addition the ST2 has;
Heated half leather Recaro seats
Sony DAB, CD SYNC head unit
Projector Style Head lights with LED DRL's
Tinted glass
Powerstart button ignition
ST3
The top of the range ST, on top of the ST2 you get;
Sony CD-Sync-SatNav head unit
KeyFree Keyless Entry
Cruise Control
EATC (climate control)
Rain Sensing wipers
Auto-dimming Mirror
Auto lights
Powerfolding mirrors with built in puddle lights
An ongoing poll/thread about trim and colour maybe of interest, don't hesitate to add your own vehicle as and when.
http://www.fiestastoc.com/forums/topic/79006-poll-what-trimcolour-have-people-ordered/
Optional Extras
The ST1 has the options of,
Ford Sat-Nav
Adjustable boot floor
Central head rest
Space saver spare wheel
The ST2 has all the equipment from the ST3 available as optional extra, ST2s AND ST3s have further options of;
Parking sensors*
Space saver spare wheel
Split level boot floor
Central rear head rest
*For the majority of cars, this appears to be rear parking sensors, but there is evidence that some ST's have been fitted with front ones too.
Other Extras:-
Style Pack
A fair amount of MK7 ST's come with the Style Pack, thanks to it either being thrown in for free or at a very low cost.
This consists of;
Red Callipers
Illuminated ST Scuff plates
Gun metal grey wheels. This is an item that is subject to change for the 2015 cars, illustrated below
Rado Grey
FItted to models up 2015 (also vehicles post 2015
without
style pack)
Rock Grey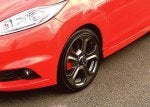 Fitted to models post 2015, including some '64' plate cars.
Interior:-
For vehicles in Frozen White, Panther black and Molten orange, two interior colour seat choices are available *.
Smoke Storm Grey
Molten Orange
Race Red and Spirit blue cars are only available with the Smoke Storm Grey option.
*please note, on the Ford configurator and the Drive The Deal order form, Molten Orange seats are available for Race Red vehicles. This is in fact an error, at least one member has tried to order this and been informed by the dealer that
this is not an available option
.
Performance:-
The Fiesta 1.6t Ecoboost has the following performance figures;
180bhp (c.197bhp with the 15-20s Over boost facility)
177lb/ft torque (c.213lb/ft with the Over boost facility)
0-62mph - 6.9s
31mph-62mph - 6.4s
1163kg*
*Ford/Parkers' figure, a forum member had his ST3 with parking sensors and spare wheel options, an a full tank of fuel weighed 1200kgs
Economy:-
Ford official figures quote 47.9mpg, we have our own fuel economy thread here
http://www.fiestastoc.com/forums/topic/102257-fuel-range/
Servicing:-
When purchasing your ST it may be advisable to ask your dealer about service costs, some members have found that dealers are asking more than others, on the basis that the ST is a performance vehicle, even though it shares a significant amount of its parts with lesser models.
Purchasing:-
A common first thread on the forum is 'Where's the best place to buy an ST or, what's the best price to pay?' A good place to start would be contacting someone like the STOC sponsor @
StoneacreYork
. However if they're out of your area, you can check out websites like DriveTheDeal or CarWow and using the on-line prices from the websites you may be able to negotiate a better deal with your local Ford dealer.
Ford Modifications/Upgrades:-
Throughout the ST's life Ford have made various minor modifications, at some point in 2014 Ford reduced to the rev limit slightly for EuroIV compliance, they also changed the design of the pedals and handbrake. Later on in 2014 (July onwards I believe) Ford introduced Applink to allow the integration of certain apps, particularly Spotify, in to the Fiesta's multimedia system. Once again, at a slightly unknown point in 2014 Ford introduced some cubbies in the boot area (pictured below)
Here's another odd one, some get this little net and others don't. There seems to be no rhyme nor reason to who gets this and who doesn't, in some cases it isn't even year dependant.
In 2015 they introduced the darker grey wheels in to the Style Pack and non Style Pack cars got the rado grey wheels. For the 2016 model (Sept 2015 onwards) they introduced the LED rear lights (pictured below)
Another little modification Ford snook in was the slight softening of the suspension for the MY2016 cars, which is detailed below :-
It seems there was some concern that the back of the ST was too aggressive, so Ford has stiffened the rear torsion beam by 27%, fitted a thicker front anti-roll bar (21mm instead of 19mm), and recalibrated the steering to match.
These alterations then allowed the engineers to reduce the spring and damper rate by using new front springs and dampers and new rear dampers (using the same springs) making the ST softer, and better able to deal with sudden bumps and camber changes."
As Ford couldnt justify the expense of sending two different chassis setups down the production line, it started to put the suspension changes onto the standard ST last year (apparently from 13/8/15) without telling anyone, as it didn't want to ruin the ST200 surprise. The shorter final drive is unique to the ST200, though.
Special Editions
As the MK7.5 ST heads towards the end of its production lifespan, despite still being a class leading Hot Hatch, Ford have begun the stream of inevitable Special Editions. The first one being;
ST 200
The main features of this being the following;
Unique Storm Grey
Unique Matte Black wheels (std ST wheels with diamond cut details and matte black centres)
Unique Black half leather interior with silver stitching.
197bhp + 217lb/ft of torque, with an overboost facility of 215bhp and 239lb/ft of torque.
Final drive reduced from 3.82 to 4.06.
0-62 in 6.7 and top speed 143mph.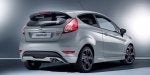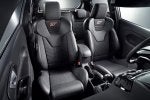 And with the release of the ST200, they're starting to pop up on here, so the inevitable has happened..
http://www.fiestastoc.com/forums/topic/251770-the-storm-grey-st200-photo-gallery/
Performance and Visual Modifications.
Like all Fast Fords, they're never fast enough! So, there is a world of tuners who will happily relieve you of your cash to give your pocket rocket Fiesta, that little extra ooomph. Here are just a couple of the more popular choices.
Mountune:-
Mountune are the Essex based tuners chosen by Ford to be in the enviable position of offering performance mods with Fords blessing and therefore a lot of their parts retain the manufacturers warranty.
The most popular being the MP215, which offers.
215ps/212bhp
320nm/236lb ft of torque
0-60 in 6.4s
31-62 in 5.7
Further details here
http://www.mountune.com/index.php/component/content/article/19-performance-upgrades/176-fiesta-st-mp215
The next level is to go the MR230 conversion,
HOWEVER THIS, DUE TO THE NATURE OF THE CONVERSION, IS NOT COVERED BY THE MANUFACTURERS WARRANTY
The MR230 conversion
http://www.mountune.com/index.php/services/performance-upgrades/fiesta/fiesta-st-2013
230ps/226bhp (rumoured to be a somewhat conservative power figure)
340nm/250lb/ft
0-60 in 5.9s
Collins Performance:-
Collins Performance, a firm favourite amongst the Ford community, offer various levels of tune for the Fiesta.
This link takes you to their packages
http://www.collinsperformance.com/shop/category/packages-fiesta-st180/
Peron:-
Peron are well respected amongst the ST community, being comparative new boys, but having a very good reputation for customer satisfaction and good value for money.
http://www.sico-developments.co.uk/collections/2013-mk7-fiesta-st
(link to SiCo developments, for clarity sake as the Peron website was a less easy to navigate)
Pumaspeed:-
Known for good value for money, Pumaspeed offer a good selection of performance parts for the MK7 ST
Link to their tuning kits
http://www.pumaspeed.co.uk/performance-tuning-Fiesta-ST-180-16-Ecoboost_1_326.jsp
Revo:-
The new kid on the block,with a history of making performance VW's and Audis that bit quicker.. In some cases a lot quicker. However, they certainly have their fans in the Fast Fiesta fraternity.
A link to their selection of parts/services
http://www.revotechnik.com/products-for-vehicle/ford/fiesta-st-2012-&engineid=97
Other Common Modifications:-
Roll Restrictor
A favourite mod is to replace the rear engine mount for an uprated version that uses Polyurethane bushes in an aluminium mounting,
Pictured is the Mountune item, but Collins, Boomba, Cobb to name but a few make their own versions and I believe Superflex do replacement bushes for the Ford OEM mounting.
Quickshift
A common modification is to fit a quick shift to reduce the throw of the gearchange, a comparatively easy fit and really takes the gear change up a level. Again lots of different varieties available with Mountune and Boomba being among the most popular,
Lowering Springs
Even though Ford have already lowered the ST by 15mm, lowering is one of the first thing a lot of people do. For the most part, it's a case of sticking to lowering springs, some people fit coilovers for some serious lows or total control for the track day addict.. But we'll stick to the common or garden lowering springs. Eibach, Mountune and H&R are some of the more commonly selected brands. They offer between 25mm and 35mm drop and due to their progressive nature a lot of owners actually see an improvement in ride quality, meanwhile giving the ST an even more aggressive stance.
Splitters
Although blessed with a factory body kit giving the ST a sporty look, a lot of owners find the addition of a front splitter below the front spoiler gives a more aggressive look to the car. The most popular being the Triple R Components, of which there are 2 different kinds
This one that they used up to some point in 2015
Then in 2015 they adopted this look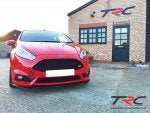 Of course you are not limited to just the one manufacturer
KMS offer this
Maxton also do this splitter for the ST
Graphics
One of the common ways ST owners stamp a little originality on their Fiesta is graphics, I'm not talking about Fast & Furious style stickers down the side of the car. Things are much more subtle than that.
Pictured above are the very popular 'Inlays', which change your the colour of the ST badge to your chosen shade from the DMB range.
http://www.dmb.uk.com/prod/2220/fiesta-mk7-st-badge-inlay-set?preview
Another frequently asked questions is about the wing gels, as seen above, they can be found here
http://www.dmb.uk.com/prod/3202/fiesta-mk7-st-wing-gel-badges-pair
Handbrake Gap Guard
A little annoyance on the ST (and all
MK7
Fiesta's presumably?) is the handbrake black hole of doom. Many members have spent hours foraging around in the dark crevice that lurks between the base of the armrest and the top of the handbrake lever. Phones, keys, you name it, it's ended up down there.
Luckily, there's a company out there that will sell you an insert to save your blushes:
http://www.strongshapes.co.uk/
And here's a guide to fitting it:
http://www.fiestastoc.com/forums/topic/255402-banish-the-handbrake-black-hole/
M Sport
If you like your ST modified, but want it ready made, you might want to look at the M Sport ST. It's a standard ST with some modifications by rally legend and WRC Fiesta builder Malcom Wilson's M Sport, these include;
A Quaife Limited Slip Differential,
Mountune MP215
OZ Superturismo 7x17 (et 42) Lightweight Alloy wheels
Custom M Sport interior pack, including Leather and Alcantara steering wheel, M Sport embroidered seat cover, and various carbon fibre bits.
M Sport WRC style rear spoiler
M Sport graphics.
Also available are the following options pack;
Chris Tullett (manufacturer of WRC exhausts) exhaust
M Sport cold air induction with Piper Cross filter
M Sport Handling Pack, Eibach Springs, Bilstein Mono-tube dampers and 11mm track width increase.
M Sport brake upgrade, featuring; Alcon Callipers with 332mm discs and Goodridge braided hoses
http://m-sportedition.co.uk/
With a discussion thread here;
http://www.fiestastoc.com/forums/topic/219546-fiesta-st-m-sport-edition/
Security:-
The little Fiesta is very popular and has sold in significant amounts, everybody wants one. Unfortunately, not everybody wishes to pay, so the ST is high on the underworlds hit list. One of the first things to purchase for your ST (especially if you live in Essex or Birmingham apparently) should definitely be:
A Disklok
, in small (standard, not the wide version), the cover is very much recommended and the bar is best pointing down to avoid leaving any marks on the steering wheel.
For other ideas on how to protect your ST check here
http://www.fiestastoc.com/forums/topic/213873-whats-the-best-way-to-secure-my-st/
Pros and Cons:-
If you're looking at buying the ST you no doubt want a run down on what's hot and what's not? So here is a very basic run down on the MK7 ST.
Pros:
Cheap - The ST range is a fantastic buy, being a good deal cheaper than its rivals from Luton and on the Continent. Excellent finance deals available.
Handling - A fantastic chassis that is exploitable and enjoyable at almost all levels.
Engine - The ecoBoost is gutsy, willing and rewarding, whilst remaining economical and very civilised on a long run/motorway trip.
Looks - From it's arch filling 17" 5 spoke alloy wheels to the macho body kit and the sporty twin tailpipes. It's a fine looking beaST :wink:
Seats - The figure hugging Recaro seats are definitely a highlight, they manage to hold you in place when enjoying the Fiesta in its natural environment, the B road or even the track, yet is a perfectly comfortable on a long trek and add the heated option it's the only way to start a winter's day.
Cons:
Headlamps - One of the biggest gripes for some owners, are the headlamps and the lack of HID option. Personally, I've seen better and I've seen worse, but the lack of HID option this day in age seems somewhat of an oversight.
The Ride - A regular thread from first time ST owners is that they find the ride a little on the firm side, especially around town. Most find that once the springs bed in, it's not all that bad. Besides, it's a hot hatch, a firm ride is par for the course to my mind.
The Stereo/Infotainment System - To the uninitiated the ST's stereo set up can seem a little bewildering and some find that the Sync system can be a little temperamental. Once you get used and get it set up to how you want it, it's a reasonable little system, with decent connectivity.
Squeaks and Rattles - Some cars seems to suffer with a few squeaks and the odd rattle from bits of trim. Others have no problems whatsoever. Luck of the draw.
TBC