Discussion Starter
·
#1
·
When I took delivery of my 05 pre-facelift ST it had a Clifford alarm fitted. The people who fitted my replacement ICE system are also Clifford dealers and they think the alarm is probably a Concept 650 Mk II. The dealer from whom I bought the car said that I was a Thatcham Cat 1 alarm. The remote looks like this: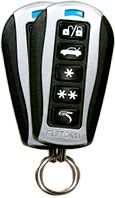 I don't have to use any of the alarm/immobiliser buttons on the key to lock and alarm the car. I press a single button on the Clifford remote. The immobiliser light on the dash flashes when the car is locked and the blue flashing Clifford alarm light also flashes. I found a dealer selling a 2007 ST and in his description of the car he states that a Thatcham Category 1 alarm was standard fit:
http://drilldown.autoexposure.co.uk/vehicle.cfm?Id=AETV89339591&Make=FORD&Model=FIESTA&City=Ulverston
Can anyone please tell me if the Clifford alarm was standard fit to my 05 ST and whether or not this sytem completely overrides the Ford security system?
I am struggling with the Clifford alarm as it didn't come with a manual (Although I have since downloaded this from Clifford's website). I also didn't get the four digit valet code. I am going to have the alarm serviced as there have been a few occasions when I have unlocked the car, the alarm has given me an audible signal and the doors have remained locked. Although this isn't serious as I just repeat the procedure to correct the situation, I am fearful that unless I have the alarm serviced I could find myself locked out of my ST.
If anyone has any experience and advice to share regarding Clifford alarms I would be really grateful.
Thanks