Having owned a mk5 zs with puma conversion for a year and had a escort rs turbo that never worked i decided it was time to get something a little more reliable and newer for my 50 mile round trip to work everyday
I set my heart on a mk6.5 zetec-s in white when i was looking, my next car had to be white i had decided and that was that. After viewing a few and not having any luck in finding a decent one i decided to go get a celebration zs in green. only to lay in bed that night thinking i want a white fiesta not a green one. so lost my deposit eugh!
Finally decided sod it and went for a ST, seeing as they appeared to be cheaper to buy then a zs and only 4mpg worse then a zs it seemed like the logical choice and lots more power as standard.
I finally came across this ST at Quicks in Hull. 2007 plate. It had 1 owner, full service history and was naked (not a fan of stripes)
The alloys were scuffed so they said they would refurb them free of charge, so with a little persuasion they did them gloss black for me. so a big thumbs up!!
I already had a few mods lined up at home which i had bought while the car was at garage getting sprayed. Delocked the drivers door, dmb overlays, a black st badge for the rear, st tax disk holder and smoked side repeaters.
This is how he looked after been at home for 30 minutes.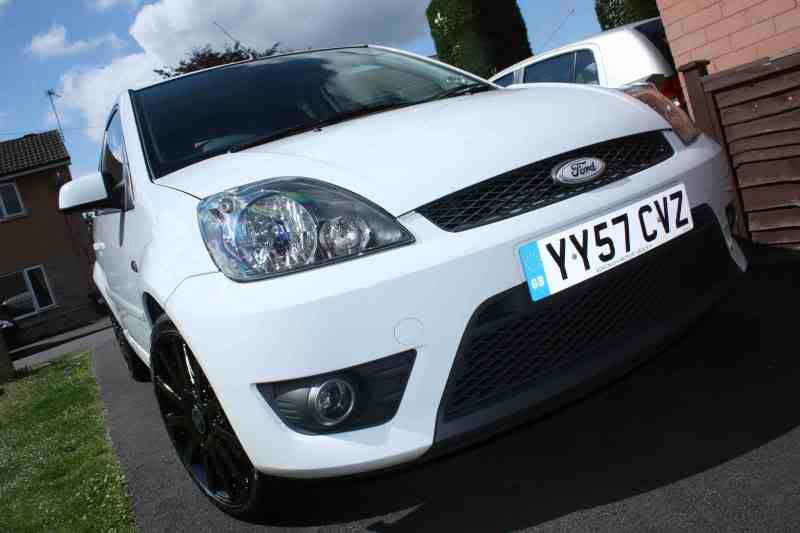 Things were great for a while i was content with how stan looked until disaster struck.....
That happened in october and the claim is now still going through solicitors. Cost me £311 for a new st500 alloy, tyre, check over at ford and tracking.
Got the new alloy fitted and everything was alright again for a while until i drove into another pothole ( think i should invest in an I Love Potholes sticker ) bent 2 alloys this time oh the joys!
So borrowed my mates silver st alloy and rode round with that on for a month, tried to tell everyone its all about breaking the mould and been original but one silver alloy and 3 black ones doesnt exactly work.
So i decided it was time to stop ruining my baby and start fixing him.
I went and bought some standard st alloys in silver, a new head unit which is very suave, and sprayed my plastics satin black because the white paint and grey plastics is very draining i think.
A few other minor mods i have done are
the led rear number plate lights,
white washer jets
and a sticker on my rear bumper saying "id rather push a fiesta then drive a corsa" (no offense to all the corsa drivers in scarborough haha)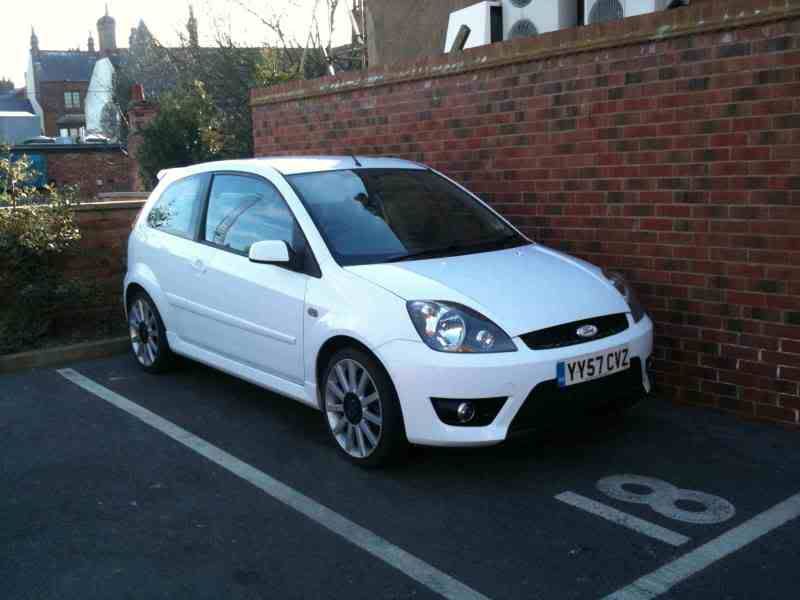 my new head unit was bought from a las off the stoc and im happy with it.
it comes with:
radio
cd/dvd player
i pod connection with controls on the touch screen
tv output to pick up free view
sat nav (personally better then tom tom's)
bluetooth
usb input
crystal clear 7" touch screen.
my new grilles that i sprayed myself with a rattle can. yes that is my make shift spray booth on my balcony held down with my new potatoes that were for my tea.....